Out of all the errors that occurs in MS Outlook; "OST file is not an Outlook Data file" is the most common one. It signifies that the OST file that is associated with your current MS Outlook profiles cannot be recognized and data in it cannot be accessed.
Usually when this error message pops up; you won't be able to open MS Outlook. It will either show you a yellow triangle with exclamation sign or an error message. A user tends to do following things to rectify the issue:
Simply close the MS Outlook and restart it, which results nothing
They get panic and start googling about error messages and end up learning nothing: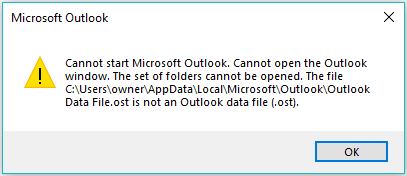 In both the above steps you are only wasting your time and energy rather than resolving the OST file error that has appeared.
How to Remove the Error?
There are two ways to resolve this issue. One is either follow the set of steps and do it manually (Which does not guarantee the complete recovery of data) or opt some third-party app to at-least get back your 100% data securely.
Method 1: If you are using MS Exchange server, Office365, or Outlook.com to access your Outlook emails then following steps needs to be followed to resolve "OST file is not an Outlook Data file" error.
Open cPanel on your machine
Go to User Accounts and Click on "Mail"
Mail Setup windows will appear. Here click on "Show profiles"
Next, select the profile (Default name of profile will be Outlook)
Click on "Properties"
Then click on "Email Accounts" and select Data files tab
Click on Open file location and you will see that OST file will get open on your screen
Now, right click on the OST file having the issue and delete it.
HELP: If your Outlook profile name is its default name i.e. "Outlook" then you can simply type in following path: %LOCALAPPDATA%\Microsoft\Outlook and jump to the .ost file location directly; skipping all the above mentioned steps.
After this, close everything and re-launch MS Outlook in your machine. This will recreate a new OST file and all the data present on server will get sync to it.
Pros & Cons: Pros being many the only cons this method has is that it does not assure you complete data recovery. Also, even after all the process being mentioned above, it is quite possible that you are unable to remove the error. Here, it is recommended to look for some another way out.
Method 2: Manually repairing OST file errors is tedious as well as requires lot of time and energy to get it done correctly. Thus, it is suggested to migrate OST file into PST file using a tool. This will help you to regain all your OST file data and access it freely in a MS Outlook account. Steps you need to follow are:
Click and install OST to PST conversion tool
Add the OST file that you want to migrate
Select the file type in which you want to convert your OST file. Here you have to select "PST"
Click on convert button to begin conversion
Voila!! You now have a PST file which you can open in MS Outlook and view your data.
The best part of using a third party app is that it saves a lot of time that you spend in repairing an inaccessible OST file. Here you only spend few pennies and bid adieu to error "OST file is not an Outlook Data file".
How to Avoid "OST file is not an Outlook Data file" Error
Such error mainly occurs when something went wrong with the synchronization on server and the email client. Sometimes due to sudden power failure or abrupt closing of MS Outlook leads to the issues in OST file causing error. Thus, one should always make sure that always close application properly and keep the backup of everything to avoid any data loss.